Are you considering buying a backpack vacuum but don't know which one is right for you? You're not alone!
This guide will help you choose the perfect backpack vacuum to fit your cleaning needs. With our advice, you'll be able to make an informed decision and find the best product for your situation.
Choosing the right backpack vacuum cleaner for your needs can be a difficult decision, but it is an important one nonetheless. Backpack vacuums are an efficient and convenient way to clean high surfaces quickly and thoroughly.
This guide will discuss the features and benefits of backpack vacuums, what you should consider when selecting one, and how to use a backpack vacuum in your home or business. This complete guide will help you determine which type of backpack vacuum is best suited for your needs so that you can make an informed decision when shopping for the perfect cleaning tool.
Considerations before choosing a backpack vacuum
Before you jump into the more practical aspects of choosing the right backpack vacuum for your needs, here are a few considerations that might help your decision:
-What type of flooring will the vacuum be used on? Some bagless backpacks are designed for hard floors, carpeted surfaces, or offer dual-action capabilities for both. Consider what kind of surface will be cleaned most often to determine if this is a priority.
-Will it need to be lightweight? If you are using a backpack vacuum in a large facility or area where you'll need to carry it around, consider opting for an ultra-lightweight model that won't tire your arms. Make sure that the weight of any attachments such as wands and hoses are taken into account before making a purchase.
-What size job is needed? Think beyond the actual size of the space needing to be cleaned. What about doors and other hard to reach areas? Look for vacuums with tools available such as crevice tools, upholstery brushes and dusting brushes which can prove helpful from small tight spaces to edges and radiators.
Surface area
When selecting the right backpack vacuum for your home or business, one of the most important factors to consider is the surface area you intend on cleaning. Knowing the size of the area you will be vacuuming and what floor you'll be working with is essential for ensuring an efficient and effective cleaning experience.
For areas with a large surface area, such as classrooms and gymnasiums, a larger backpack vacuum model might be necessary in order to get enough cleaning power. On the other hand, if you have a smaller space to work with or are only looking to clean hardwood or low-pile carpets, a smaller model may still get the job done. When in doubt, it's typically best to buy a model that is larger than necessary so it can cover more ground and live up to its full potential.
Type of surface
When picking out a backpack vacuum, the type of surface you use it on is important. The material and texture of your floors directly influences the amount of suction power you will need from the vacuum. Hardwood surfaces may be more delicate and require less suction than carpets or rugs that have heavier dirt or mud build-up.
Most backpack vacuums come with dual motors that allow you to switch between different types of flooring or adjust the amount of suction needed for each surface. Higher-powered models also have adjustable settings for greater control over how much suction is being used. Choose one that is tailored to meet your specific needs and fit your budget.
Carpet, tile, hardwood, laminate, concrete—all require a different level of power and type of cleaning head in order to get the job done efficiently and thoroughly.
III. Features of a backpack vacuum
When shopping for a backpack vacuum, there are a number of features you should consider. These features will determine the suitability of the machine for your needs. Some features include:
Weight- A lightweight backpack vacuum weighs between 8 and 10 pounds. Lighter weight vacuums allow you to move faster and cover more space in less time. However, keep in mind that lighter weight models may have lower power and fewer attachments compared to larger machines.
Power – Make sure to look for a model with enough power to handle fine dust and dirt particles without clogging the filter or system. Most backpack vacuums can provide from 80 -95 air watts or suction pressure, but some top-of-the-line models may offer up to 200 air watts suction power.
Attachments – Different models come with varying sets of accessories designed for specific cleaning tasks. Some accessories may also add versatility and special functions like wiping surfaces or scrubbing carpet fibers as you vacuum. Look out for tools such as upholstery tools, crevice tools, dusting brushes, floor and wall brushes, handy nozzles and more!
Noise Level– Consider an ultra-quiet model if noise level is an issue in your home or facility setting. Most traditional backpacks are quieter than upright vacuums today but many now go one step further with extremely low sound levels while still providing powerful suction that can reach hard corners and other difficult areas around your home or premises easily.
Ergonomics – Backpack vacuums come with adjustable straps that can be adjusted depending on user height, making them comfortable to use over long periods of time—a great choice if you have back problems! Additionally, look for large carrying straps which distribute the weight evenly across both shoulders reducing shoulder strain caused by single shoulder use.
Motor
When choosing the right backpack vacuum for your needs, the motor is an important factor to consider. The size of the motor will determine not only the suction power of your backpack vacuum but will also affect its durability. Generally, larger motors are recommended for commercial use, while smaller motors can be used for residential tasks. You may also need to consider extra features such as variable speed settings or multi-stage filtration when looking at motors. Different models have different capabilities when it comes to their motors and will thus require different levels of maintenance and care.
Hose length and diameter
The hose length and diameter you need will depend on the size of the area you need to clean. Vacuuming large areas and multiple rooms will require a longer, wider hose, while vacuuming smaller spaces or confined areas should be accommodated by shorter, narrower hoses.
When considering the best backpack vacuum for your needs, you should look at the length and width of the specific vacuum's hose. You'll also want to consider if any attachments are available that can increase reach in difficult-to-reach places. Some backpack vacuums come with telescopic wands that can be adjusted to various lengths which may increase your reach into tight spaces.
Additionally, it is important to make sure that all hoses are made out of non-kinking material so they won't get caught and tangled while you're working.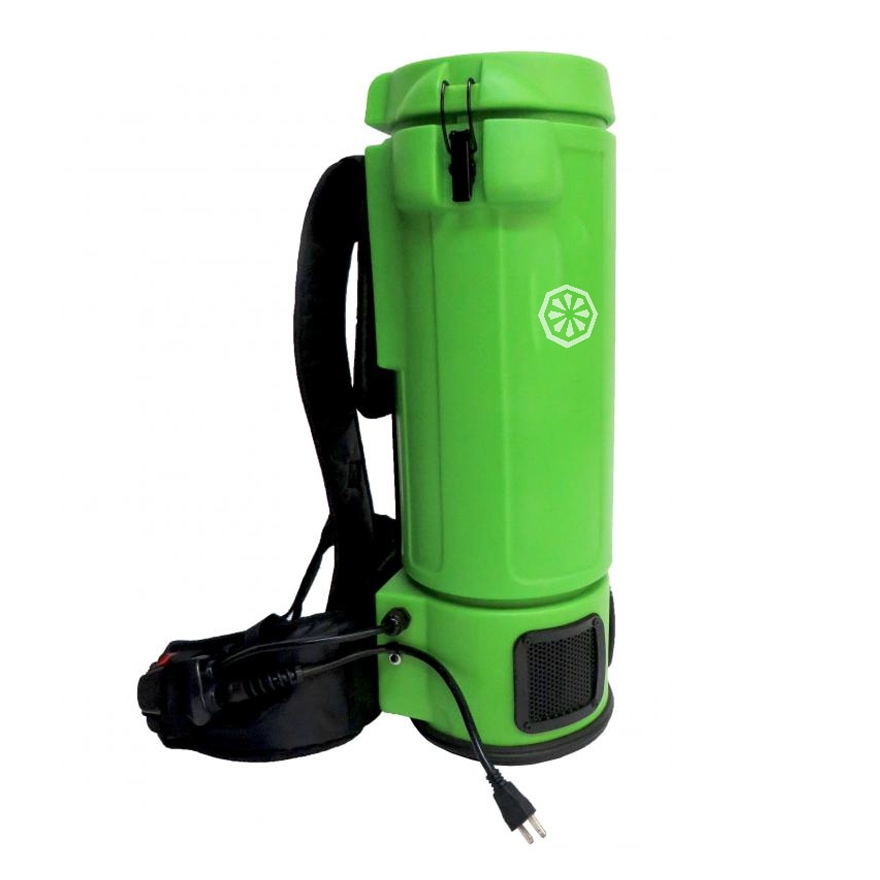 Wand length and type
When selecting a backpack vacuum cleaner, you need to consider both the length and type of wand included. A longer wand is ideal for business applications so that the operator can reach behind equipment, into corners and other hard-to-reach places. It can also be helpful in providing better reach overhead. Most backpacks come with adjustable telescopic wands to accommodate different users, as well as accessories when needed.
The type of wand is also important depending on your applications. For example, some models include specialized tools like crevice nozzles, dusting brushes and upholstery attachments. These are especially useful for getting into tight spaces and corners or for cleaning delicate surfaces such as drapery and furniture fabric. If noise levels are a safety concern in your workplace, look for a "low decibel" backpack with relatively quiet operation.
Top backpack vacuum brands and models
When you are shopping for a backpack vacuum, it's important to consider both the features of the model as well as brand reputation. Here is a list of some of the top manufacturers and models for backpack vacuums, so you can be sure you are getting quality equipment that meets your needs.
Hoover: Their flexible Shindaiwa Envirobat backpack vacuum is lightweight at only 9 pounds and has an innovative design that makes it easy to carry up and down stairs. The gallon capacity tank can handle large jobs, while their on-board tool storage ensures all your cleaning accessories are always in reach.
Sanitaire: Sanitaire's Prolux Allergy bagless converts easily from a handheld vacuum to a backpack style with its included conversion kit. It also has HEPA filtration that captures particles as small as 0.3 microns and multistage filtration to reduce allergens in the air while also extending motor life.
Taski: Taski's Ergodisc 1100 is a powerful model that functions equally well on carpets or hard floors with its 4-level height adjustment feature and 11-inch cleaning path width for maximum coverage. Its top fill bagging system means no more dust clouds when refilling the bag and it includes tools like an extension wand, dust brush and extra long power cord for added convenience.
Oreck: Oreck's Super Coach commercial backpack vacuum contains 15 amps of power combined with their patented Ultra Clean Filtration System (UCFS) which removes 99.9%+ of particle pollutants from indoor air as small as 0.1 micron in size, helping improve overall indoor air quality while reducing allergens and irritants like pet dander, pollen, smoke and smog particles from your environment. It can even stand up vertically on its own for fast easy storage when not in use!
Brief overview of top brands
When it comes to selecting the best backpack vacuum for your needs, there are a wide variety of factors to consider. As a result, it can be difficult to determine which brand and model best suits you. To make your search easier and more efficient, here is a brief overview of some of the top brands available:
Hoover: Founded in 1908, Hoover is one of the world's leading and most trusted vacuum cleaner brands. With exceptional performance features and unsurpassed reliability, Hoover offers an impressive lineup of cordless backpacks that are perfect for commercial and residential applications alike.
Dyson: Dyson produces high-grade vacuums designed with advanced technology technologies and innovative designs that provide effortless operation. Their lightweight cordless bagged models are ergonomically designed for comfortable use, offering powerful suction capabilities in tight spaces without compromising on flexibility or capacity.
Eureka: Eureka offers sturdy cordless backpack vacuums that possess several unique features such as adjustable shoulder straps and heli-force exhaust system for improved air flow. This helps deliver excellent performance in upholstery cleaning, carpet care and general home maintenance tasks – all at an affordable price!
Oreck: Oreck's backpacks are manufactured with quality features such as low-noise operation, easy maneuverability and HEPA filtration which ensures healthier indoor air quality. Their commercial grade vacuums feature robust construction frames designed to withstand abrasive pick up on carpets or bare floor surfaces while still providing extended durability.
Comparison of popular models
When it comes to choosing the right backpack vacuum for your needs, there are several factors to consider. It's important to weigh up the features of each model, and compare them against your specific requirements. In this guide, we provide a comparison of three popular models to help you make an informed decision:
Hoover CH30000 PortaPower Lightweight Canister Vacuum – This model is lightweight and easy to maneuver thanks to its swivel nozzle. It comes with powerful suction power and a long power cord which makes it perfect for reaching tight spots. The dust bag is easily emptied and replaced, while the HEPA filtration system captures 99% of dust particles and pollens.
Dirt Devil BD20045 Easy Steer Bagless Upright Vacuum – This upright vacuum boasts a steering ease due to its all-direction wheels which makes it ideal for tight areas or corners in DhopperMode settings. The dirt cup is large enough for big messes and emptying is simple with just one touch operation. The built-in HEPA media filter captures 99% of pet dander, dust mites and more from the airpath as you clean.
Oreck Commercial 8 Pound BB870AD Backpack Vacuum – This vacuum features a lightweight design with dedicated tools for above-the-floor cleaning tasks such as draperies and blinds. It has adjustable shoulder straps for comfort during use, plus an ergonomic harness that helps reduce fatigue when used for long periods of time. The "ASP" Technology provides increased suction power on carpets while the Microsweep technology sweeps up small particles like pet hair in one pass!
How to maintain and care for your backpack vacuum
Proper maintenance of your backpack vacuum is essential to ensure that it operates effectively and safely. The following tips will help keep your backpack vacuum in good working order.
Regular Cleaning: Cleaning the outside of your backpack vacuum regularly with a damp cloth and mild soap will help remove dust and dirt, which can cause components to malfunction in the long term.
Replace Filter Bags Frequently: When disposing of filter bags, be sure to replace them promptly with new ones. Worn or clogged filter bags can impair suction power, decreasing dirt removal efficiency.
Check Electrical Components Regularly: Make sure that all electrical components are working properly before, during and after each use by periodically checking that all connections are working correctly and cables are not frayed or worn.
Empty Dirt Containers/ Bags on a Regular Basis:Particles removed from surfaces by the vacuum should be disposed of frequently to avoid any potential build-up that could lead to poor performance or even permanent damage to the motor or other internal components.
Visual Inspections:Perform visual inspections regularly by closely examining all areas of the unit for wear, damage or loose parts in order to identify potential problems before they become major issues.
Cleaning and replacing filters
Various filters are required to capture airborne dust, pollen and dirt particles. There are two basic designs used on backpack vacuums — multiple disposable bags (paper or cloth) and a large multi-media filter. It's important to review the types of filter used by the backpack vacuum you're considering purchasing.
If you are using a disposable bag filter, make sure to replace it often as clogged bags reduce air suction and decrease efficiency of operation.
For larger backpacks with a multi-media filter, it is important that replacement filters be readily available and economical. Some vacuums come equipped with a shake out feature that shakes loose dirt from the paper media filter so it can be reused several times before replacing it. Make sure that you have access to compatible replacement parts so you can keep your vacuum in good running condition for many years. Your vacuum manufacturer should provide detailed instructions on cleaning or replacing your filters when necessary.
Checking and replacing vacuum bags
Once you've chosen the right backpack vacuum for your needs, it's important to make sure you keep it in optimal condition. You need to make sure that the vacuum bags are checked and replaced as needed. Depending on the type of vacuum and attachments being used, bags may need to be changed as often as once a week.
The primary goal of replacing vacuum bags on a regular basis is preventing clogging, which can reduce suction power, cause overheating, and even damage the motor or other parts of the machine. Vacuum bags can become full quickly when larger debris is picked up or when working in areas with higher amounts of dust. Debris like pet hair and fine dust can pass through the filter while larger particles can accumulate and block air flow unless they are cleared away regularly by replacing vacuum bags.
Most backpacks vacuums have reusable cloth or paper filtering bags that should be changed at least once a month – more often if needed – in order to ensure maximum efficiency of your machine. Installing a new belt before you replace your bag will ensure an even tighter seal and better performance as well. Clogged filters can also damage motors, so regularly emptying vacuum bags will help protect your investment from unnecessary repairs down the line.
Conclusion
Choosing the right backpack vacuum for your needs can be an intimidating task. While it is important to consider technical details such as run time, suction power, and even filter type, other considerations such as ergonomics and portability are also important.
Ultimately, the best backpack vacuum cleaner will have an optimal balance of performance features and user experience that is tailored to the specific working environment in which it will be used.
The information presented here provides a general overview of the various factors involved in choosing a backpack vacuum cleaner and serves as a guide for professionals looking to ensure that their purchase meets their expectations for ease-of-use, durability, cleaning efficiency, and safety for their home or business.
FAQ's
How do I know which vacuum bag to buy?
To know which vacuum bag to buy, you should first check the brand and model of your vacuum cleaner. Then, look for the specific type of bag recommended by the manufacturer. It is important to use the correct bag to ensure proper filtration and prevent damage to the vacuum.
How do I choose a vacuum for suction power?
To choose a vacuum with good suction power, you should look for a model with a high airflow and sealed suction system. Additionally, consider the type of flooring in your home and choose a vacuum with adjustable suction power to accommodate different surfaces.
How much suction is good for vacuum?
The amount of suction needed for a vacuum depends on the type of flooring and level of dirt and debris. A suction power of 200-300 watts is generally considered good for most household cleaning tasks.
What watt vacuum should I get?
The wattage of a vacuum cleaner is not always an accurate indicator of suction power. Instead, consider the airflow, sealed suction system, and type of flooring when choosing a vacuum.
Does it matter what vacuum bag you use?
Yes, it matters what vacuum bag you use. Using the wrong type of bag can lead to reduced suction power and damage to the vacuum cleaner. Always use the recommended bag for your specific model.
Is 2000Pa strong suction?
A suction power of 2000Pa is considered strong and should be able to handle most household cleaning tasks.
Is 20,000 Pa suction good?
Yes, a suction power of 20,000Pa is considered very strong and is suitable for heavy-duty cleaning tasks.
Does higher wattage mean better suction?
Not necessarily. The wattage of a vacuum cleaner is not always directly related to suction power. Look for a vacuum with a high airflow and sealed suction system for better suction.
What does 6000 pa suction mean?
6000Pa suction means that the vacuum cleaner has a suction power of 6000 pascals. This level of suction is considered moderate and should be sufficient for most household cleaning tasks.
What is the strongest suction for a vacuum?
The strongest suction for a vacuum can vary depending on the model and brand. Suction powers of 20,000Pa or higher are generally considered very strong and suitable for heavy-duty cleaning tasks.
See Also :